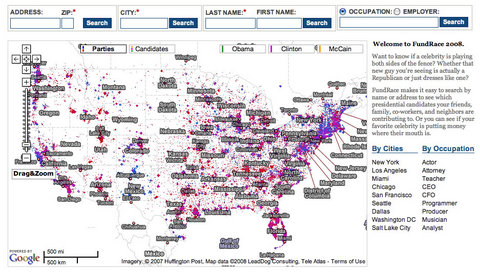 De Huffington Post heeft een interactieve geografische applicatie ontwikkeld. Door het koppelen van data kun je inzicht krijgen in wie welke kandidaat financieel steunt, waar ze wonen, wat ze doen, of je buren doneren, wat de politieke voorkeur is van de stad waar je woont. De ethiek rondom het koppelen van data lijkt me een zeer belangrijk iets...
All calculations are based on public records filed with the FEC of contributions by all individuals totaling more than $200 (and some totaling less than $200) to a single Republican or Democratic presidential campaign or national committee for the 2004 and 2008 election cycles.

FundRace is updated according to the reporting schedule set by the FEC. Public contribution data is geocoded using public U.S. Census Bureau data. Dynamic maps are powered by Google Maps.